Our society's reliance on mobile technology is ever-growing, and as we enter a new decade, mobile technology becomes an integral part of our daily lives. Embracing the power of mobile credentials in your security system can enhance the reliability, efficiency, and customer experience of your facilities.
Here are three reasons to adopt our Mobile Credentials:
1. Grant Guests Temporary Access
Every facility receives guests and visitors, and providing them with temporary access can be a complex process. The traditional method of creating access key cards consumes time and effort. However, with the introduction of mobile credentials like Millennium Mobile Connect, you can effortlessly grant temporary access to all guests. The system allows you to customize schedules and access level permissions, ensuring guests are limited based on the criteria you set.
2. Convenience for Administrators and End-Users
Certain facilities require an administrator's physical presence to grant access to secured rooms, leading to time loss and frustration for both customers and administrators. Millennium's Mobile Connect Credentials solves this problem by enabling remote door opening and access granting. Authorized personnel can log in from anywhere and conveniently unlock doors or revoke access to specific locations.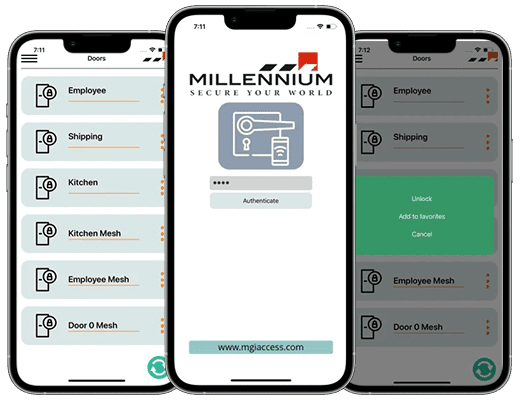 3. Prioritize Favorite Locations
Millennium Mobile Connect empowers users to prioritize their frequently used doors, creating a personalized experience. The app allows customization based on preferences, making door access unique for each individual.
As mobile technology advances, so does access control technology, making authorization, permissions, and door control highly flexible. The use of encryption and secure connections on smartphones ensures that Millennium Mobile Connect is a secure solution. Users can enjoy peace of mind, knowing that their information is safe, and they no longer need to worry about losing keys.
Secure your facilities and embrace the future of mobile credential technology with Millennium's cutting-edge Ultra Mobile Connect. Click here to install the app.