In education, IT, healthcare, or any other industry, it's vital to recognize and control who enters or exits a facility, however, the subjects of physical access control and identification badges can be a bit confounding.
What is a badge entry system?
It is an electronic building access control solution that approves access all through the facility utilizing an individual's ID as the credential. In this way, the identification is utilized for both visual distinguishing proof and access approval. Accordingly, this kind of framework is well-known for industrial and commercial properties.
You've probably seen badge entry systems previously. A lot of visual media depicts spies swiping ID cards to get to limited regions. But properties don't need to have a highly classified status to fit the bill for a badge entry system!
Properties like schools, college campuses, medical clinics, and places of business ordinarily use badge entry systems for security efforts. Users essentially swipe or scan their ID cards to get to a building and the rooms inside.
The badge comes as both an actual card or a digital footprint on your cell phone – the last option comes with countless benefits over the previous one. The framework takes into account the production of custom printed access control credentials. 
This lets a solitary badge/card or cell phone act as both recognizable proof and access control validation eradicating the requirement for duplication of credentials. The Millennium Badge Module permits you to create and supply your photo ID badges.
The badge module consists of several options to fit your needs: a software-controlled digital camera, a high-end imaging capture card, and powerful Ultra Software. Badges can include a bar code, digital signature, or barcoding compatible with our electronic access control systems. 
The Badging & Access System is very user-friendly and customizable to fit most applications. Data in the system comes from personnel records and identification cards issued by the Federal/State government.
Features Of Badging and Identification
License via activation
Multiple columns and rows per layout
Predefined templates
Text, image, and drawing objects
Ghosting images
Image opacity ,asking
Manual data entries
1D & 2D barcodes
Export card preview
Print to Windows printers
Single and double-sided printing
Import and export images
Webcam support
Camera support
Magnetic coding
Create user group profiles
Assign/remove users(s) to/from groups
Temporarily block user(s)
Advanced fraud prevention mechanism
Account password expiration feature
Hide database information from user(s)/group(s)
Hide card template from user (s)/group(s)
Benefits of Using Millennium as Badging and Identification Partner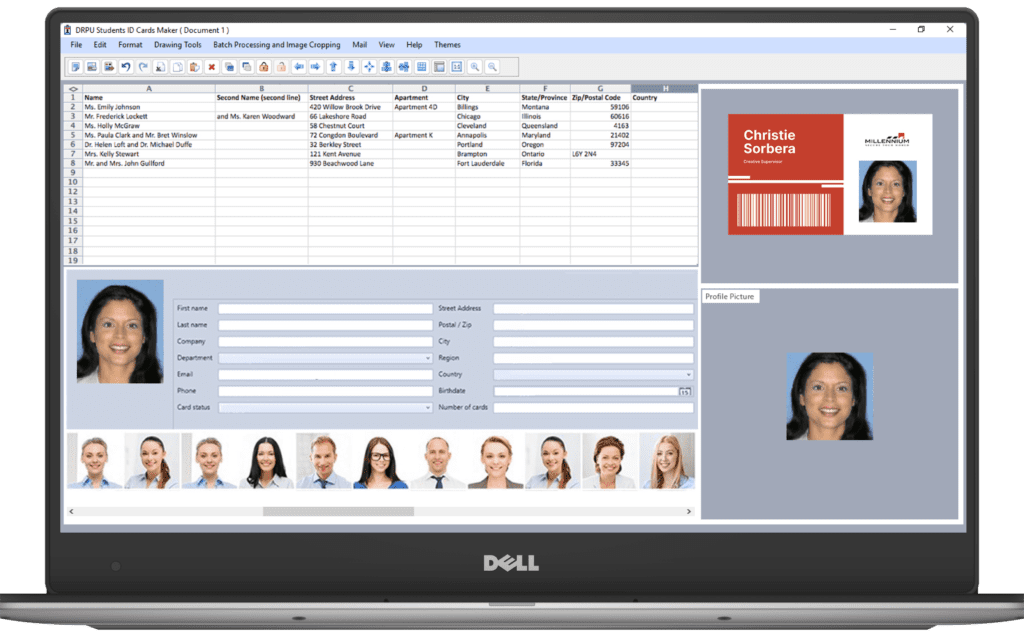 Easy Badging Process: Badging module makes the whole process easy. The administrator or operator can place the photo on the already finalized company template in a matter of a few seconds. Further, entry-related data can be copied from the employee's database.
Digital ID – Mobile Identification: Millennium presents a Digital ID that allows the cardholder to carry a digital card on his mobile phone. It can be issued in the form of PDF, JPEG, PNG, etc. instead of carrying a plastic card every time.
Safeguard access to your sensitive areas/data: To safeguard access to your premises and/or your data, the employee badge can take on the function of an access control card. This allows you to prevent intrusions by unauthorized persons and, at the same time, protect your employees, infrastructure, property, and data.
By adding a barcode, QR code, or direct encoding in the card to the badge, you can easily manage access to your buildings, sensitive zones, and data using the permissions and rights that you define.
Default/Custom ID Badge Templates: Millennium has by-default many ID badge templates that you can use for your employees, visitors, contractors, or dealers. Custom-made ID badge templates are also available which makes the system very easy to learn.
Read More: All you Need to Know About Access Control System – A Complete Guide
Establish a More Professional Image of your Company
Portray the colors of your company and strengthen the emotion of belonging with a personalized worker badge developed in line with your company s visual identity.
Create: Design your ID card designs through different shapes, font sizes, barcodes, etc
Search & Sorting: With the quick search option, get the required data from the cluster in no time and in a precise way.
Photo Capture: Take photos utilizing face recognition, auto cropping, and other useful tools.
Interface: An interactive and easy-to-use interface that both freshers and experienced graphic designers can use.
Placeholder: Use placeholders to smoothly allocate the photo, company logo, barcode, and signature.
Conclusion
The well-established legacy of a physical keycard for identification being more unassailable than a digital keycard is no longer accurate. Mobile security has grown, and the security exposures of a physical keycard, which can be easily misplaced or cloned, still stay. 
Similarly, mobile badging provides pervasive, comprehensive security and a personalized experience across all of a company's platforms, whether on a browser or mobile.
While there will still be a role for the physical ID badge, Millennium Ultra has determined to enhance it by offering it a digital twin with features and specifications that other badging companies simply don't offer.